Additional Information
| | |
| --- | --- |
| Manufacturer | Logitech |
| Manufacturer's Suggested Retail Price | $179.00 |
Details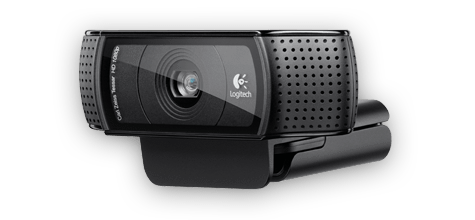 Full HD 1080p video that's faster, smoother and works on more computers thanks to the H.264 video standard.

Full HD 1080p video calling on Skype® *
Your loved ones will see the real you in breathtaking Full HD clarity—only on the Logitech C920 and Skype.
* Please download the latest version of Skype, Skype 5.8 for Windows, which offers 1080p HD video calling.

H.264 video standard
You'll enjoy faster, smoother video and better image quality with less demand on your computer thanks to H.264 encoding—the industry standard for HD video.**
** Recording videos using H.264 requires installation of QuickTime®. QuickTime and the QuickTime logo are trademarks or registered trademarks of Apple, Inc., used under license.

HD 720p video calls
You'll get 720p video calling on most major instant messaging services available in Australia, including Windows Live™ Messenger.

Full HD 1080p recording
You can record in breathtaking, widescreen Full HD 1080p at 30 frames-per-second (fps). Plus, with H.264 encoding, your computer doesn't have to work as hard for you to get great video.

Autofocus
The 20-step autofocus is more responsive, more sensitive and more intelligent. So whether your kids won't stop moving or you're trying to capture your latest dance moves, the C920 delivers razor-sharp images (from 10 cm and beyond) for every occasion.

Natural stereo audio
You can be sure your loved ones will hear the real you thanks to dual stereo mics in built into C920 HD Pro Webcam.

Stable mounting clip
The versatile clip with rubberized bumpers helps hold your webcam securely in place on your desktop or laptop monitor. Plus, it'll even mount on a tripod.
15-megapixel snapshots
You can send brilliant 15-megapixel snapshots (software enhanced) to the people you care about.
Write Your Own Review
You're reviewing: Logitech C920 HD Pro Webcam
System Requirements
Windows Vista®, Windows® 7 (32-bit or 64-bit) or Windows® 8

For HD 1080p video recording:

2.4 GHz Intel® Core 2 Duo processor
2 GB RAM or more
Hard drive space for recorded videos
USB 2.0 port (USB 3.0 ready)/li>

Recommended requirements for full HD 1080p and 720p video calling*:

1 Mbps upload/download for 720p
2 Mbps upload/download for 1080p (Requirements for H.264 and MJPEG formats vary)
*Visit your preferred video calling provider's website for exact information on system and performance requirements.
For Skype® in Full HD 1080p
Technical Specifications
Full HD 1080p video calling (up to 1920 x 1080 pixels) with the latest version of Skype for Windows*
720p HD video calling (up to 1280 x 720 pixels) with supported clients
Full HD video recording (up to 1920 x 1080 pixels) with a recommended system**
Logitech Fluid Crystal™ Technology
H.264 video compression*
Carl Zeiss® lens with 20-step autofocus
Built-in dual stereo mics with automatic noise reduction
Automatic low-light correction
Hi-Speed USB 2.0 certified (USB 3.0 ready)
Tripod-ready universal clip fits laptops, LCD or CRT monitors
Logitech webcam software:
Pan, tilt, and zoom controls
Video and photo capture
Face tracking
Motion detection
PC Mag
"In addition to stereo microphones and a Carl Zeiss lens, the Logitech c920 adds onboard H.264 compression and full 1080p high-definition video recording—and even offers 1080p video chat over Skype HD. It's a very solid choice, if not class-leading."
Editor Rating
: 4/5
Q: Which shipping carriers do you use?
A: Our deliveries are made via Australia Post eParcel service.
Q: What are the shipping costs?
A: The shipping cost for orders <500g is fixed at $11.95 incl. GST.
For larger orders, the shipping cost will vary according to the destination address and parcel weight / dimensions, and will be calculated upon checkout.
You can view the shipping cost by adding an item to your Shopping Cart, and then using our Shipping Calculator tool provided on the Shopping Cart page.
Q: How fast is delivery?
A: All orders are shipped from our warehouse in Cheltenham, VIC, with a typical delivery time-frame of 1-5 business days depending on the destination address.
- Orders placed before 12pm and paid via Paypal or Credit Card payment system, are typically shipped next business day. We aim to provide fastest possible delivery to our customers.
- For Direct Deposit payments, please allow an additional processing time of 1-3 business days.
Q: Are parcels insured?
A: All our shipments are covered by the standard postage cover that provides insurance for up to $100. For an extra insurance cover of up to $3000, you should select 'Registered Post with Extra Cover' option during checkout.
Buzz Planet (AUS) Pty Ltd cannot be held responsible for parcels lost or damaged in transit if you choose not to insure.
Q: If I buy multiple products, will they be shipped together?
A: We will combine multiple items in one shipment, resulting in a reduction of shipping costs.
Q: Do you ship to PO Boxes?
A: Yes.
For additional information on shipping and order processing, please refer to our 'Customer Service' page.
You may also be interested in the following product(s)
Regular Price: $189.00

Special Price: $176.00